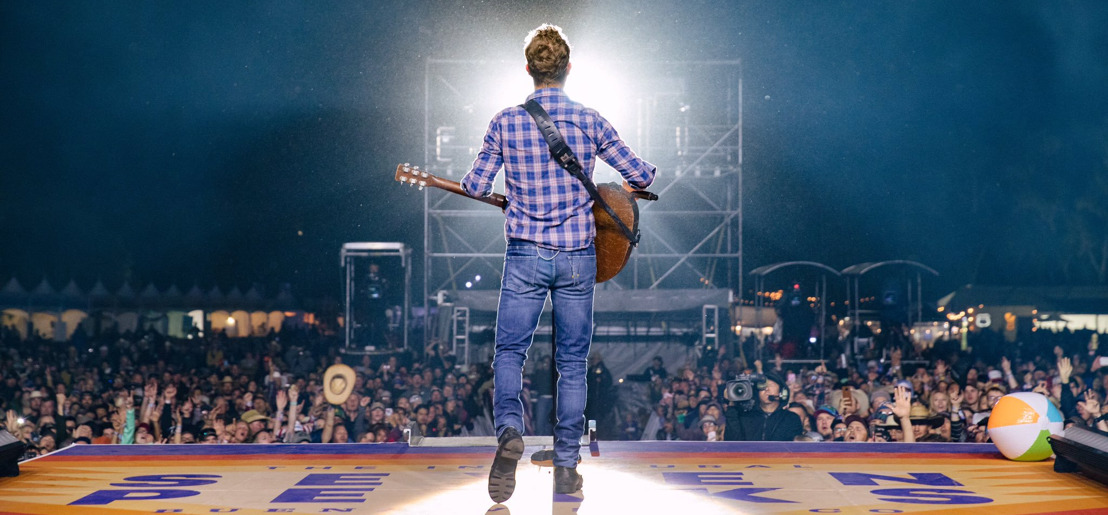 Peak Performance: Seven Peaks Festival Flies High with PK Sound
Combined Trinity and Gravity system provides crystal-clear sound at high altitudes
Buena Vista, CO September 25, 2019 — From August 30th to September 1st, the small mountain town of Buena Vista, Colorado played host to the Seven Peaks Festival, an annual music event curated by country music superstar Dierks Bentley. Featuring modern day Nashville royalty like Luke Bryan, Ryan Hurd, and Caylee Hammack as well as veterans like the Nitty Gritty Dirt Band and War and Treaty, the event boasted a robust attendance of over 12,000 who came from all over the country to enjoy three days of live music, camping, and other outdoor activites. Ensuring that all attendees would enjoy the same high-quality sound from wherever they stood in relation to the event's three stages, the crew of Seven Peaks assembled an impressive system of PK Sound Trinity Line Arrays and Gravity Subwoofers to provide the needed power and clarity.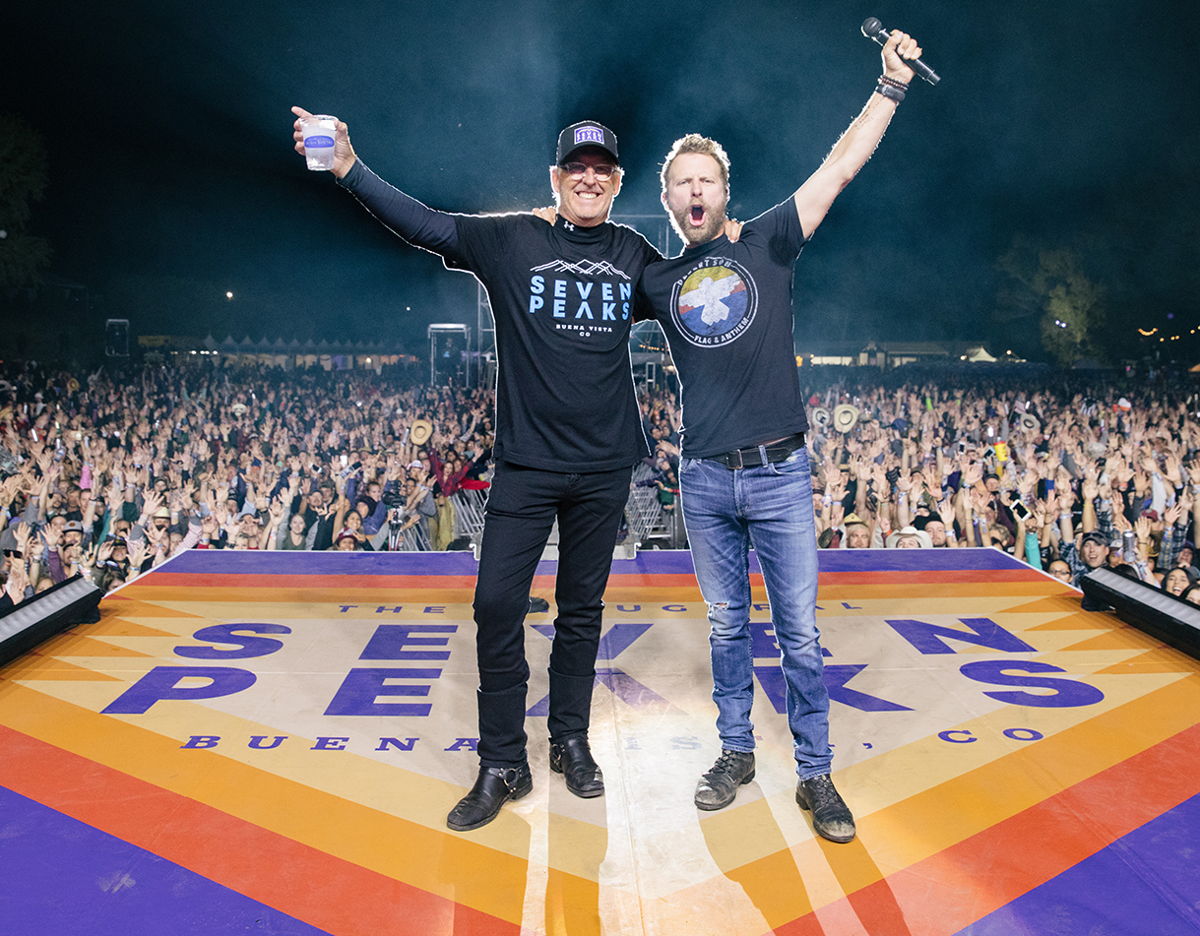 Mountain man
​Bentley's relationship with the region began last year when he recorded his last album The Mountain in Telluride, CO. Realizing that nearby Buena Vista would be the perfect place to host an outdoor festival that combined live music with a campground atmosphere, Bentley partnered with Live Nation's Brian O'Connell to put it together. "It's a special place," explained Bentley's FOH and System Engineer James "Pugsley" McDermott. "Dierks recorded the first music video for The Mountain on the same property and we knew it'd be a great place to host a festival where people could camp out and enjoy the scenery."
Three stages were planned for the Seven Peaks Festival: The Main Stage, which could support the full attendance of the event, the Whisky Road Stage which was fit for up to 5,000 attendees, and the Beach Stage which was equipped for up to 3,000. Each stage would need a robust sound system that could project loudly in the outdoors as well as operate effectively at high altitudes given that the festival would be taking place up in the mountains. "You need to make sure that the rig can stand up to the diminished air pressure since we're operating at 8,000 feet above sea level," McDermott said. "You need drivers that can really push."
In addition to the added power requirements, the system also needed to be very precise to ensure that the festival didn't wear out its welcome with the surrounding community. Human noise complaints aside, the festival also had neighboring livestock farms that needed to be considered. "Some of these farms were less than 800 feet away," he said. "We needed to ensure that there'd be no uncontrolled noise pollution in there as well as spilling out into the neighboring areas."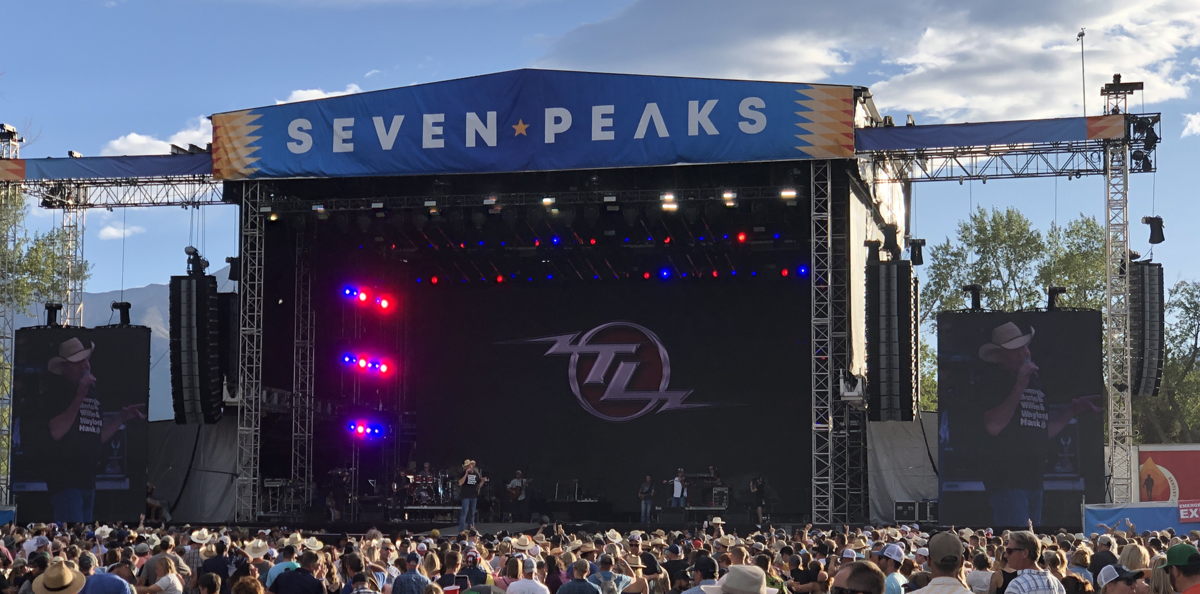 Fixing it at the source
​McDermott became a convert to PK's Trinity Line Arrays and Gravity Speakers while running sound for Bentley's eight month Burning Man Tour earlier this year. "These systems are very well put together, and adaptable to any venue and situation," he said. "There's a saying in sound design, 'Fix it at the source'. What that means is that if you have good quality components and a well-assembled box, that you don't need a lot of digital signal processing to 'fix' your sound. PK did a great job designing these boxes and it's made them really efficient to use and you know that what you put in, you're going to get back out."
In addition to the quality of the core units, McDermott noted that the precision and ability to adjust 'on the fly' were key to their success at Seven Peaks. This not only saved on setup time but allowed him total control of the event. "With most systems you have to spend a lot of time with prediction software. It's a great tool to have, but it's never going to account for all the variables that can effect sound in a live environment," he said. "The control that you have with Trinity and Gravity allow you to really listen and make adjustments in the moment, which can be really powerful."
McDermott and his crew of ten employed twelve Trinity Line Arrays, and twelve Gravity Subwoofers per side for the Main Stage, with fourteen Trinity 10 Line Arrays per side for coverage. The Whisky Road Stage had four Trinity Line Arrays stacked on the stage, with three Gravity Subwoofers per side and the Beach Stage had two Trinity 10s stacked with two Gravity 2x18 subs for each side as well. The selection of line arrays and subwoofers gave them the right amount of power for each stage, with enough flexibility to suit the variety of artists that would be performing on each. Impressed by what his team was able to accomplish, McDermott said, "It always blows people away. In the grand scheme of things, the technological advancements in this stuff is really impressive, but at the end of the day it just sounds incredibly musical and all without too much DSP."
The system managed to impress many of the visiting talent engineers as well. "When you hear 'Fix it at the source', this is what they are talking about," said Trevor McIntosh, Front of House Engineer for Tracy Lawrence. "The Trinity system was ultra-responsive and gave me better coverage and headroom than any other line array that I've used. It really inspired me to mix in a way that was more dynamic and impactful." Frank Sgambellone, Front of House Engineer for Luke Bryan, agreed, saying, "It made for a real easy day. Pugsley had the system sounding brilliant when we arrived, and given that the site was asymmetrical, being able to steer the PA on the fly made sure that we had a great show."
For more information, please visit PK Sound's website at: https://www.pksound.ca/
About PK Sound
​At PK Sound we are passionate about providing a powerful connection between artist and fan. We believe that every audio experience should be exceptional. Our loudspeakers are well known for their transparent, full bodied, powerful sound; a result of new technologies created by people who love music, focusing on the evolving demands of artists, engineers and fans.

Steve Bailey Public Relations, Hummingbird Media

Jeff Touzeau Public Relations, Hummingbird Media, Inc.