PK Sound Announces Kontrol 2.5 Update
Software upgrade includes updated user interface, increased compatibility with install and manual products
Calgary, Alberta, November 6, 2019 — Innovative loudspeaker designer and manufacturer PK Sound have just announced a major update to their best-in-class product management software, Kontrol. Kontrol 2.5 includes an upgraded user interface and streamilined menu system to add support for tablet and mobile device users. The software -- which gives users the ability to make precise adjustment to PK's products in real-time, including their robotic Trinity and Trinity10 line arrays – also now has increased compatibility with PK's install and manual-series offerings, as well as some small tweaks to provide a more stable platform. The update is available now to all Kontrol users.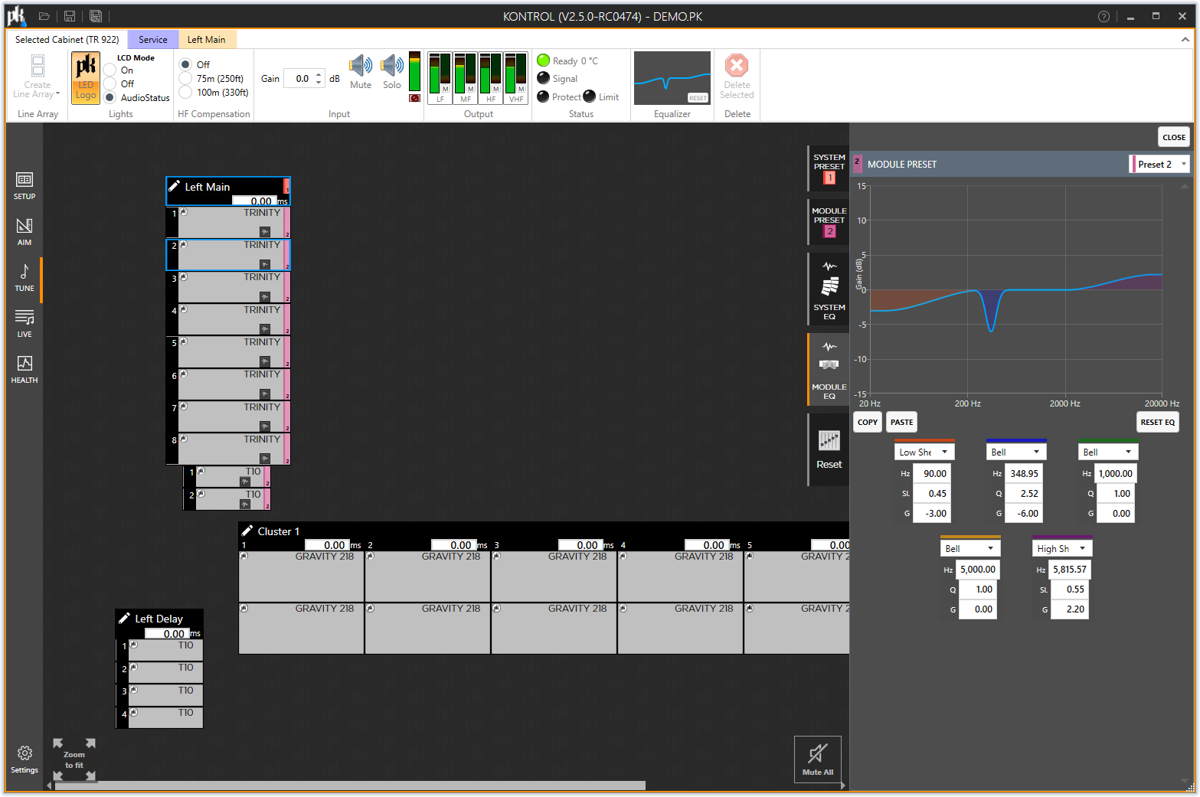 Part of what led PK Sound to upgrade Kontrol's user interface was feedback from the artists and Front of House engineers that rely on their products at live events around the world. "There's not a lot of space in Front of House situations," explains PK Sound Lead Developer, Pierre Bastianelli. "What we found was that our users were favoring tablets over desktop computers or laptops for their size and ease of use, so we've redesigned the UI of Kontrol to be more compatible with these and other touchscreen devices."
Bastianelli went on to say that despite the changes, Kontrol 2.5 still has the same rich feature-set that users have come to know, as well as continued support for laptop and desktop users. "Although our new controls are being done with touch interface in mind, it is still compatible with all existing devices," he said. "We're designing a system that people can rely on, and we also want to give our users a taste of what's to come in future updates."
In addition to the upgraded user interface, Kontrol 2.5. also adds compatibility with the Manual and Install versions of PK Sound's Trinity and Gravity speakers, giving users precise control over their internal DSP.
For more information about PK and the latest updates to Kontrol, please visit: https://www.pksound.ca/
About PK Sound
​At PK Sound we are passionate about providing a powerful connection between artist and fan. We believe that every audio experience should be exceptional. Our loudspeakers are well known for their transparent, full bodied, powerful sound; a result of new technologies created by people who love music, focusing on the evolving demands of artists, engineers and fans.

Steve Bailey Public Relations, Hummingbird Media

Jeff Touzeau Public Relations, Hummingbird Media, Inc.