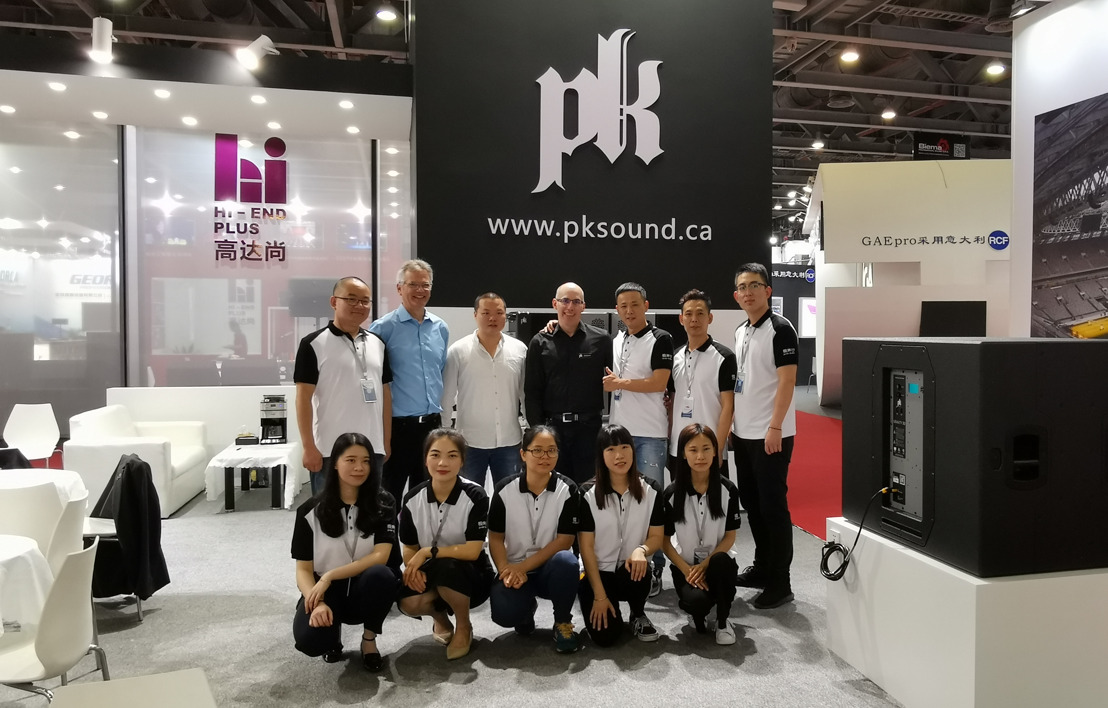 Polar Audio to be Exclusive Distributor of PK Sound in China
Guangzhou-based company is PK's first foray into APAC region
Calgary, Alberta, May 15, 2019 — Canadian sound manufacturing company PK Sound has just announced that Polar Audio Guangzhou will be their exclusive distributor in China. The deal marks PK Sound's first foray into the APAC region, and according to PK Sound CEO and Chief Engineer Jeremy Bridge, a great opportunity to expand the company's global reach. "It's extremely important to grow the global network in the correct manner and choose the right partners from the beginning," Bridge explained. "Polar Audio combines the experience of long-serving industry professionals with a large network and market reach in a region that we're very excited to expand into."
The deal came about as Polar Audio was searching for a high-quality audio brand to complement their high-end video offerings. "The global marketplace for professional speaker technology is crowded at present with dozens of manufacturers offering essentially the same products," Polar Audio Guangzhou CEO Chen Hongquan said. "PK Sound takes a different approach and provides unique solutions and technology not offered by other manufacturers." Polar Audio's CTO made multiple visits to the PK Sound factory and live events where their loudspeakers were being used, before approaching them for the partnership.
Polar Audio will now have a complete stock of all Trinity 10, Gravity, Klarity, CX and VX products, as well as a Trinity demonstration system. In addition to this, as a full-service distributor for PK Sound, they will service and repair all PK products as well as and provide technical staff and audio consulting solutions to customers, closely supported by PK Headquarters. The company also has a demonstration facility in Guangzhou built specifically to showcase PK Sound products.
"In PK Sound we have a powerful partner that has recognised the market's needs with its revolutionary Trinity robotic line array and subwoofer solutions," said Chen. "Their meticulous development work and state-of-the-art materials have paved the way for a new generation of PA systems. The proprietary control software serves as added value for our customers and allows us to provide the full package; a perfect combination of sound quality, precise control and intuitive rigging solutions. We are very proud to introduce PK Sound's products to the Chinese market."
"Polar Audio was looking for a world class company that they believed could overtake established top-level brands, and PK Sound has the right technology to do so," concluded Bridge.
For more information, please visit PK Sound's website at: http://www.pksound.ca/
About PK Sound
At PK Sound we are passionate about providing a powerful connection between artist and fan. We believe that every audio experience should be exceptional. Our loudspeakers are well known for their transparent, full bodied, powerful sound; a result of new technologies created by people who love music, focusing on the evolving demands of artists, engineers and fans.

Steve Bailey Public Relations, Hummingbird Media

Jeff Touzeau Public Relations, Hummingbird Media, Inc.